Time Paintings
Home • Gallery • Landscape Paintings • Time Paintings • Recent Works • Process • Biography • Exhibitions • Contact • Artists Page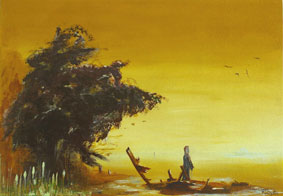 Original Time
Acrylic on textured Masonite
580mm x 404mm
Collection of the artist
The painting was painted in 1971 and is the only surviving painting of the original time series. It was based on the Torridge estuary in Devon which contained many rotting wooden hulks at that time.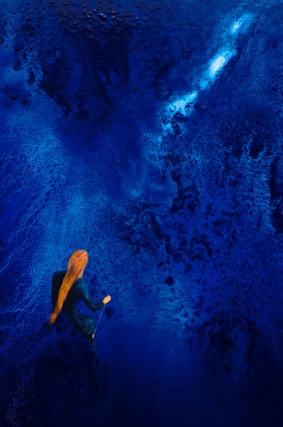 Time
Acrylic on 3D board
590mm x 890mm
The Celtic female symbolising Time is seen here isolated, just marking time.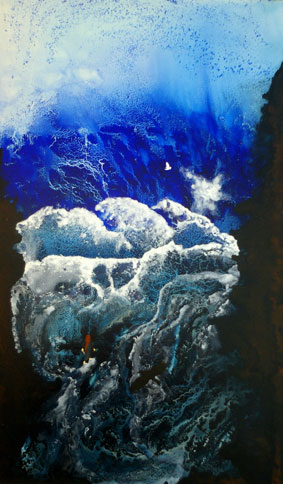 Time Walking on Water
Acrylic on Masonite
550mm x 840mm

Time is shown here having no regard for the elements of nature, carrying the sword of war and olive branch of peace. the dove of new life flies ahead of Time and crow of death follows.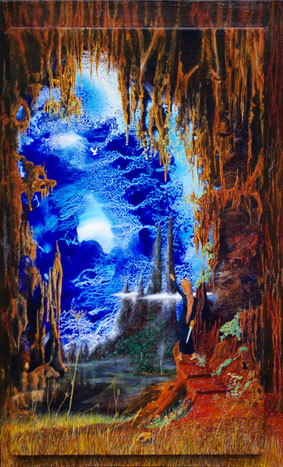 Peace Time
Acrylic on 3D board
570mm x 940mm

Time releases the dove of peace but holds the sword of war behind her back. Ahead of time in the distant ground is the future forming, in the middle ground is a fire burning representing man and in the foreground behind Time is the past.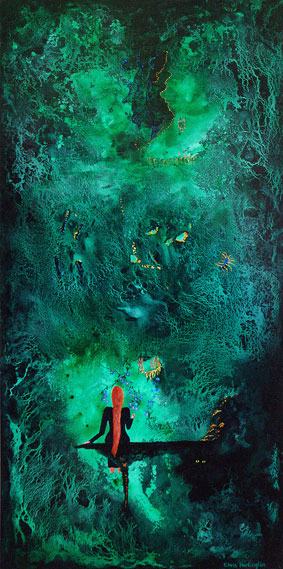 Time Painting
Acrylic on Masonite 290mm x 580mm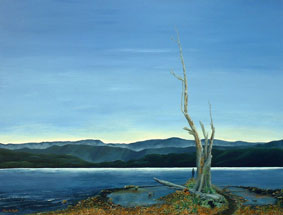 Ahead
Acrylic on Masonite 760mm x 600mm
Collection of the artist
The landscape is an amalgamation of several locations, hills from Pauatahanui, pool from East Harbour and a tree from National Park I use the long female figure to represent time and human presence. The distant hills look green and inviting but at that distance it is impossible to know if the place or time ahead will be different or similar to that which is left behind.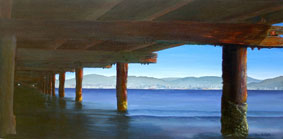 Across Time
Acrylic on canvas 455mm x 915mm
Private collection
Petone was the landing place for the settlers of Wellington. The pier now located on the Petone foreshore frames the modern city at low tide, its aging timbers link the old with the new.

Ngaruruhoe Time
Acrylic on canvas 300mm x 760mm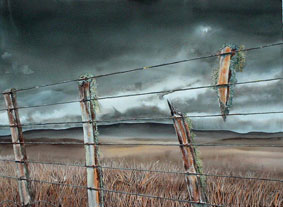 Time Passing
Watercolour on paper 550mm x 720mm
Private collection
The fencing wire in the painting represents the humane perception of time as a liner event and the fence battens as the aging process and death.
Home • Gallery • Landscape Paintings • Time Paintings • Recent Works • Process • Biography • Exhibitions • Contact • Artists Page
All images © Copyright Chris Partington